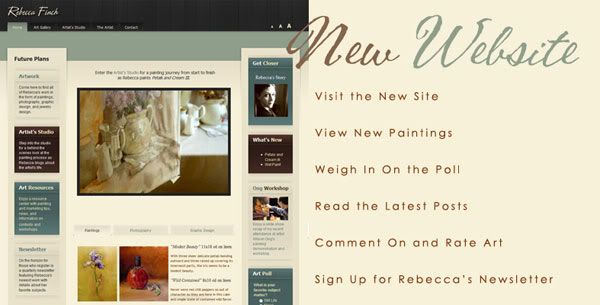 In February, I began designing a new website that will be more like a Website-blog. My intention is to create a website that is constantly changing and where new content is added on a regular basis. I would like it to be place that you might want to visit often. It is still in its early stages, however I am adding content every week. On the site, you will find my current paintings and graphic design. The Artist's studio has new posts, paintings can be commented on and rated in the Art Gallery, and a changing art poll on the home page awaits your input.

In the future, there are plans for an Art Sightings page which will feature the work of other artists that I admire, a resource page for fellow artists, and very soon I will be pulling together my first quarterly newsletter.


visit the new website . . .

Take a Breather

You deserve a break from your busy schedule. Take a few minutes to relax in the Art Gallery, see a painting from start to finish in the Artist's Studio, and feel free to contact me with feedback on what you'd like to see on the site.

Brighten your day here . . .